Corporate Social Responsibility
Community & Charity Programs
As a responsible corporate citizen, Chevalier Group is dedicated to supporting a wide range of community and charitable activities.
Fundraising for the Community Chest
Chevalier Cup Race Day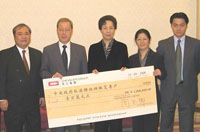 Donation to Sichuan earthquake victims
Fundraising The Group actively participates in various fund raising activities organized by the Community Chest and local charity organizations, namely "Community Chest Corporate Challenge" and also donated to Children Medical Foundation.
Sponsorship The Group sponsored the Lunar New Year fireworks display twice and is a long-time patron of the Hong Kong Jockey Club's "Chevalier Cup Race Day".
Blood Donation The Group joins the blood donation program organized by the Hong Kong Red Cross every year to help the needy in society.
Sichuan Earthquake in 2008 Donated HK$1 million to help Sichuan earthquake victims through the Liaison Office of the Central People's Government in the Hong Kong SAR and also sponsored a number of fund raising activities for supporting the post-disaster reconstruction work in Sichuan, namely HKU SPACE Fundraising Performance Premier of "De Ling & Empress Ci Xi" and "The Hong Kong Girl Guides Association Charity Concert for Sichuan".
South Asia Tsunami Disaster in 2004 In response to the "South Asia Tsunami Relief Action" organized by the Liberal Party, a donation activity was held with donation boxes placed in offices to raise funds for the victims. For every dollar donated by the staff members, the Group donated HK$2.
Charities Activities in Canada Chevalier's philanthropic acts spread all over the world. The Rosedale on Robson Suite Hotel in Canada organises fundraising activities for many charities and welfare organizations every year, including the ALS Society of BC, the Greater Vancouver Food Bank Society, to name a few.

Go Back

Go to top