Corporate Overview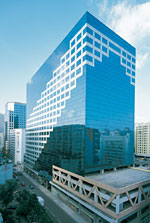 The Chevalier Group was founded in 1970 by Dr Chow Yei Ching, and its group holding company, Chevalier International Holdings Limited, is listed on the Stock Exchange of Hong Kong. The Group has developed into a diversified global conglomerate with about 10,000 employees working in its subsidiaries and associated companies with a presence in Australia, Canada, Hong Kong, Japan, Macau, Mainland China, the Philippines, Singapore, Thailand, USA and Vietnam.
Our diverse business portfolio includes Construction and Engineering, Insurance and Investment, Property, Lifestyle Food and Beverage as well as Agriculture. This business diversification has created a competitive edge for the Group, enabling it to thrive and meet the challenges in the rapidly changing global marketplace.
The corporate philosophy of Chevalier is to strive for customer satisfaction and quality excellence. All Chevalier staff members are dedicated to providing quality, efficient and high value-added products and services to meet the needs and interests of clients.

Chevalier's remarkable success stems from its investment in people, and building a successful collaboration with our business partners, bankers and shareholders. These strong relationship enhance the Group's ability to meet the challenges of a rapidly changing market.
In the future, with a view to achieve a greater degree of diversification and globalization, Chevalier will continue to develop businesses in Hong Kong and also actively explore overseas development opportunities.

Go Back

Go to top